Edward Riddell
Talented nature and portrait photographer, master of Carbonara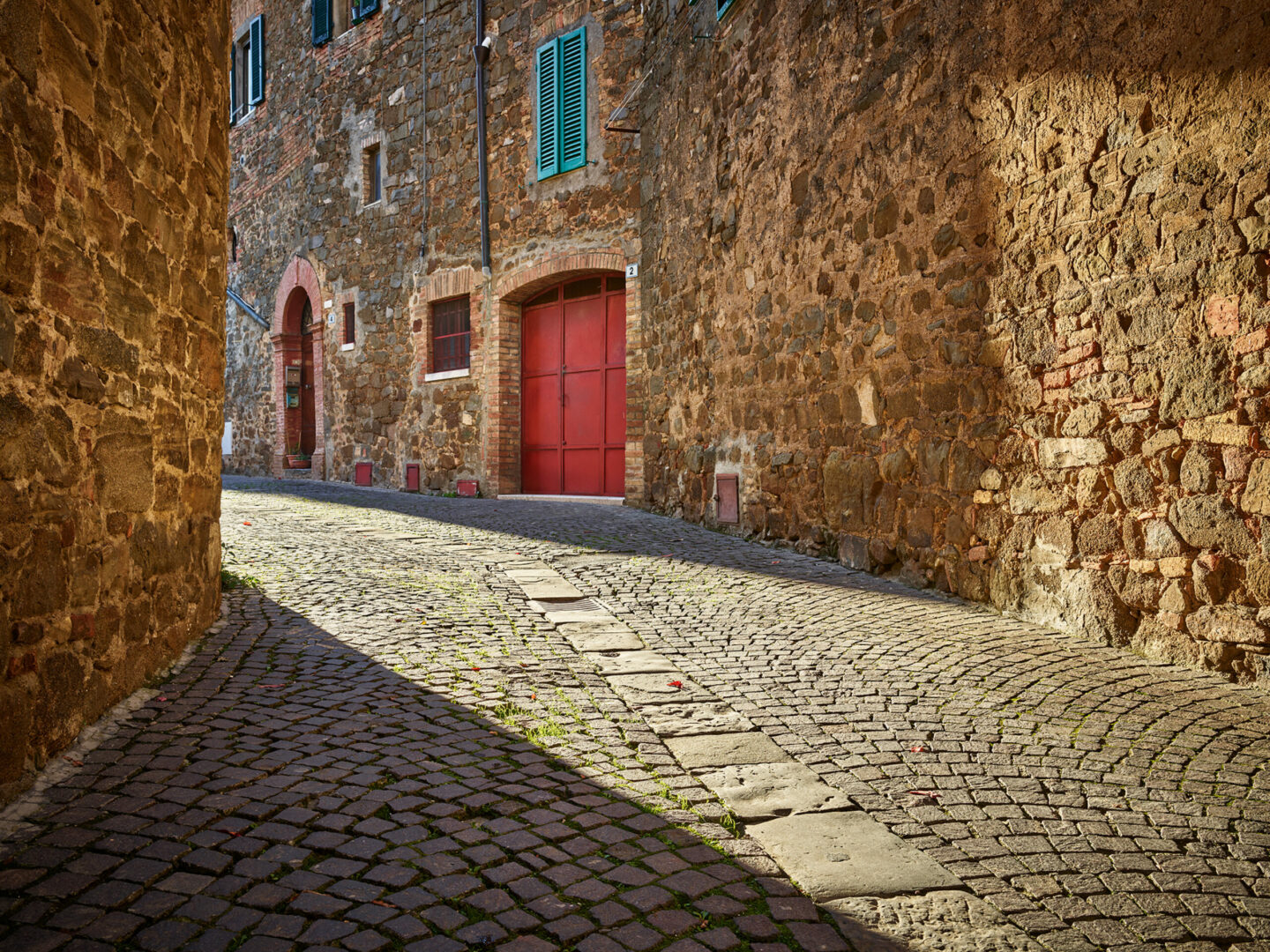 Montalcino street, image by Edward Riddell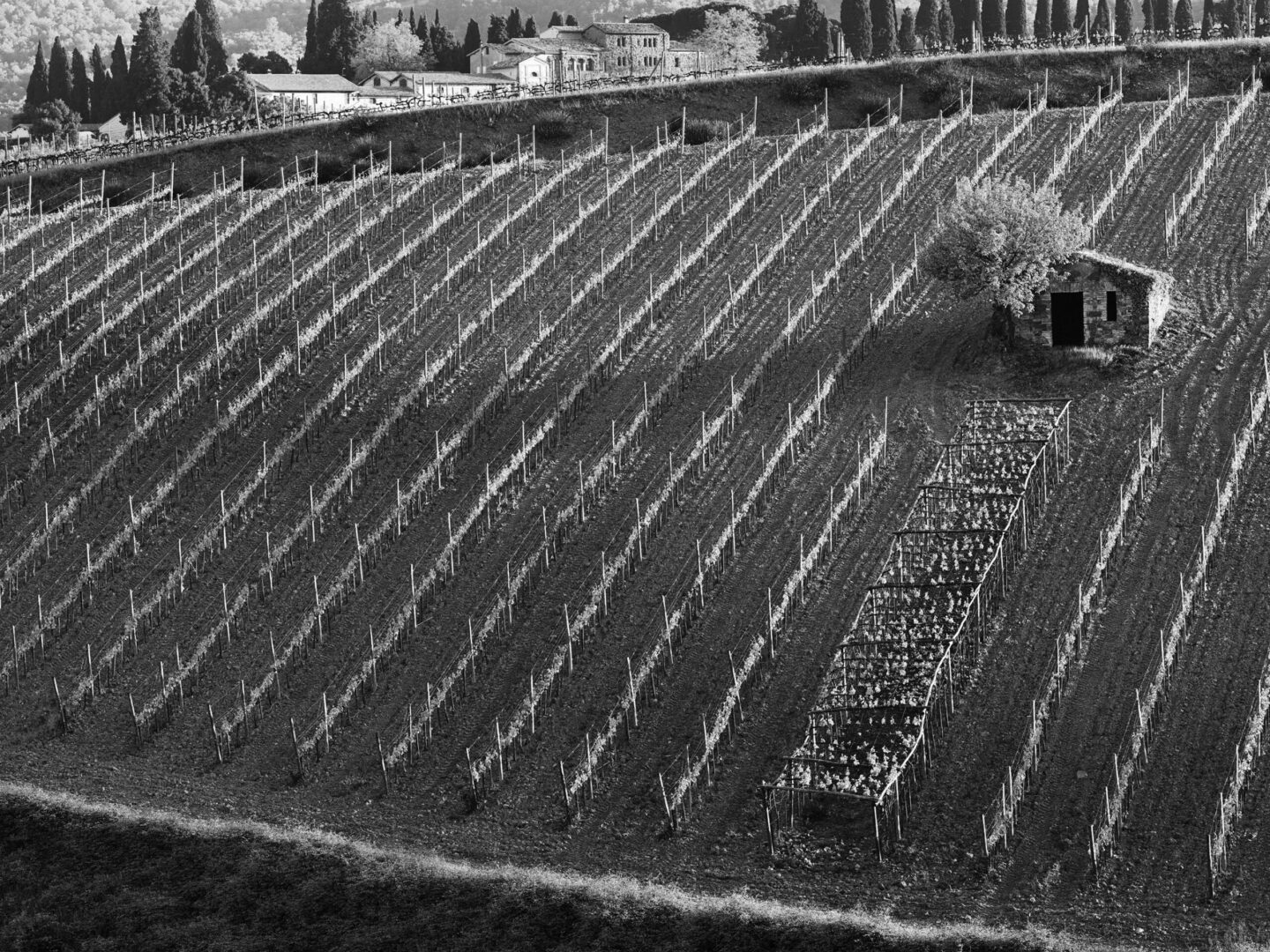 Vineyard, image by Edward Riddell
Montalcino, Image by Edward Riddell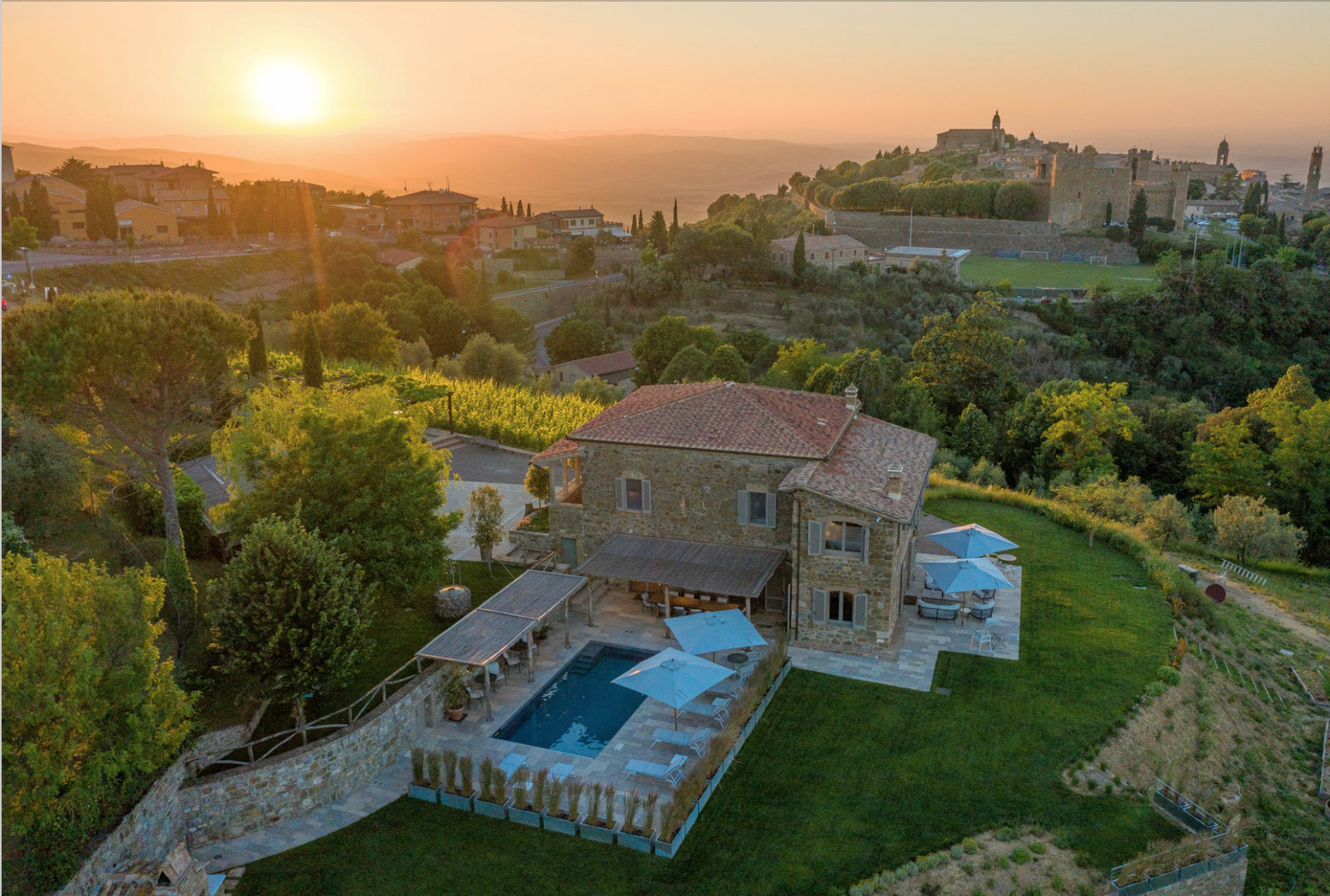 Villa Palazzetta
What brought you to Val d'Orcia and what made you stay?
I studied art in Florence between 1972 and 1973 as Stanford University offered a program there. Every weekend friends and I would hitchhike around Tuscany. We would sometimes take the train as far as Buonconvento then hitchhike from there. Montalcino was one of the many places I visited on these trips, although at the time all the roads in town were still dirt! We also got to taste the wines during an enology class. Back in the 70s Brunello was still being discovered, the wine was less approachable — you really had to keep it in your cellar for 10 years before drinking it!
Thirty years later I finally brought my wife back to Italy and the first place we visited was Volterra, the second place was Pienza, and the third was Montalcino, where we found Hotel di Capitani and got one of the rooms that looks out over the whole Val d'Orcia, and that was it.
Since 2006 we've been coming back twice a year: in the Spring and in the Fall, always staying at Hotel di Capitani, at least in the beginning. My wife is a painter and I'm a photographer, so we would use Montalcino as our home base to go out and photograph.
We would set out early in the morning and explore all the hilltop towns, sporadically. On the 7th year of coming we began looking at real estate signs in windows, until we eventually found something that looked interesting, up on Montalcino's highest street, near the Duomo, and made an offer.
Our offer ended up not going through, so the year later we stumbled upon the realtor at Le Logge who told us he had a place to show us, Villa Palazzetta. We now come for even more time every year and have begun producing around 200 litres of olive oil and 200 litres of wine from Sangiovese—although it isn't Brunello.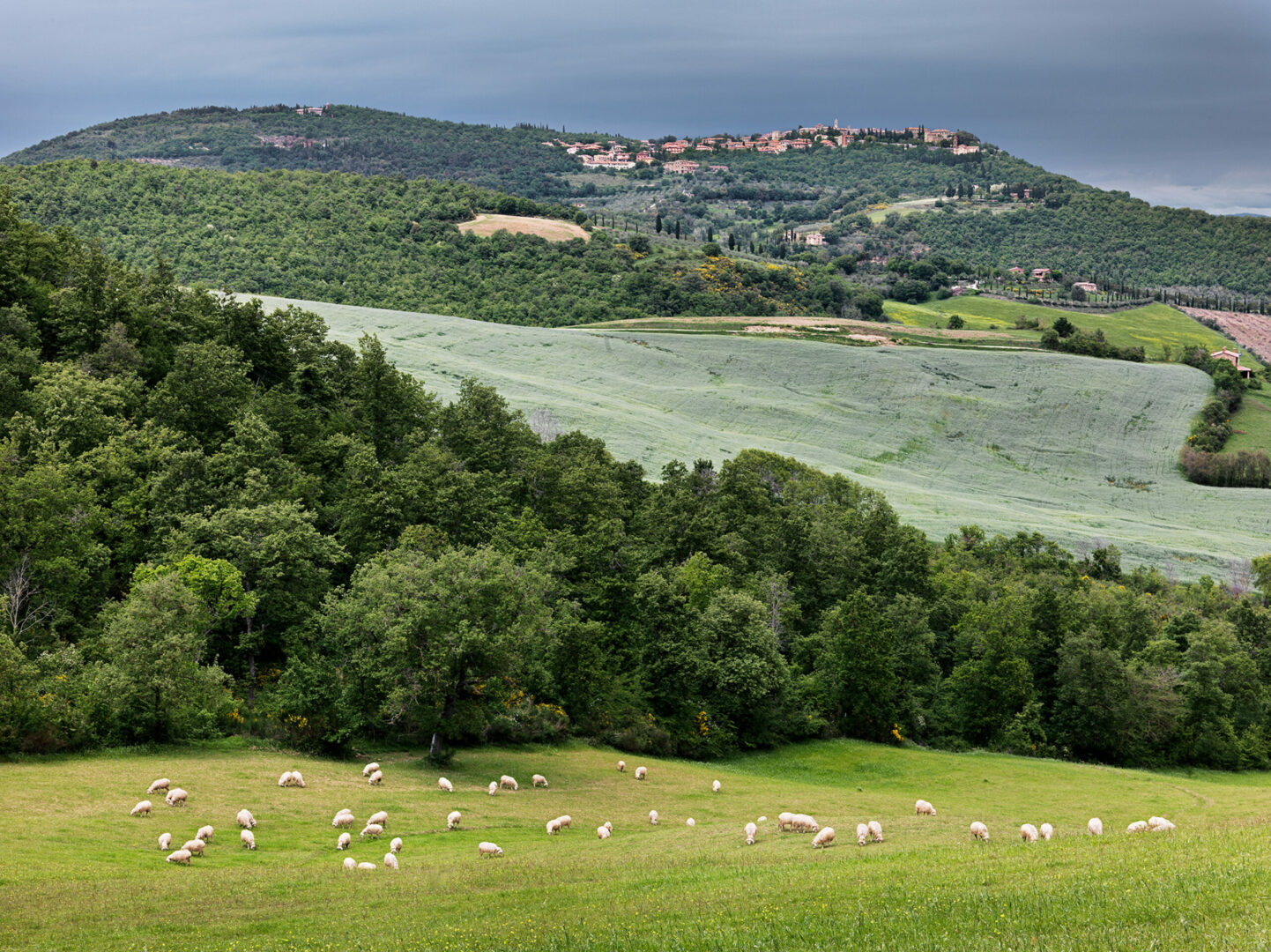 Follonica, image by Edward Riddell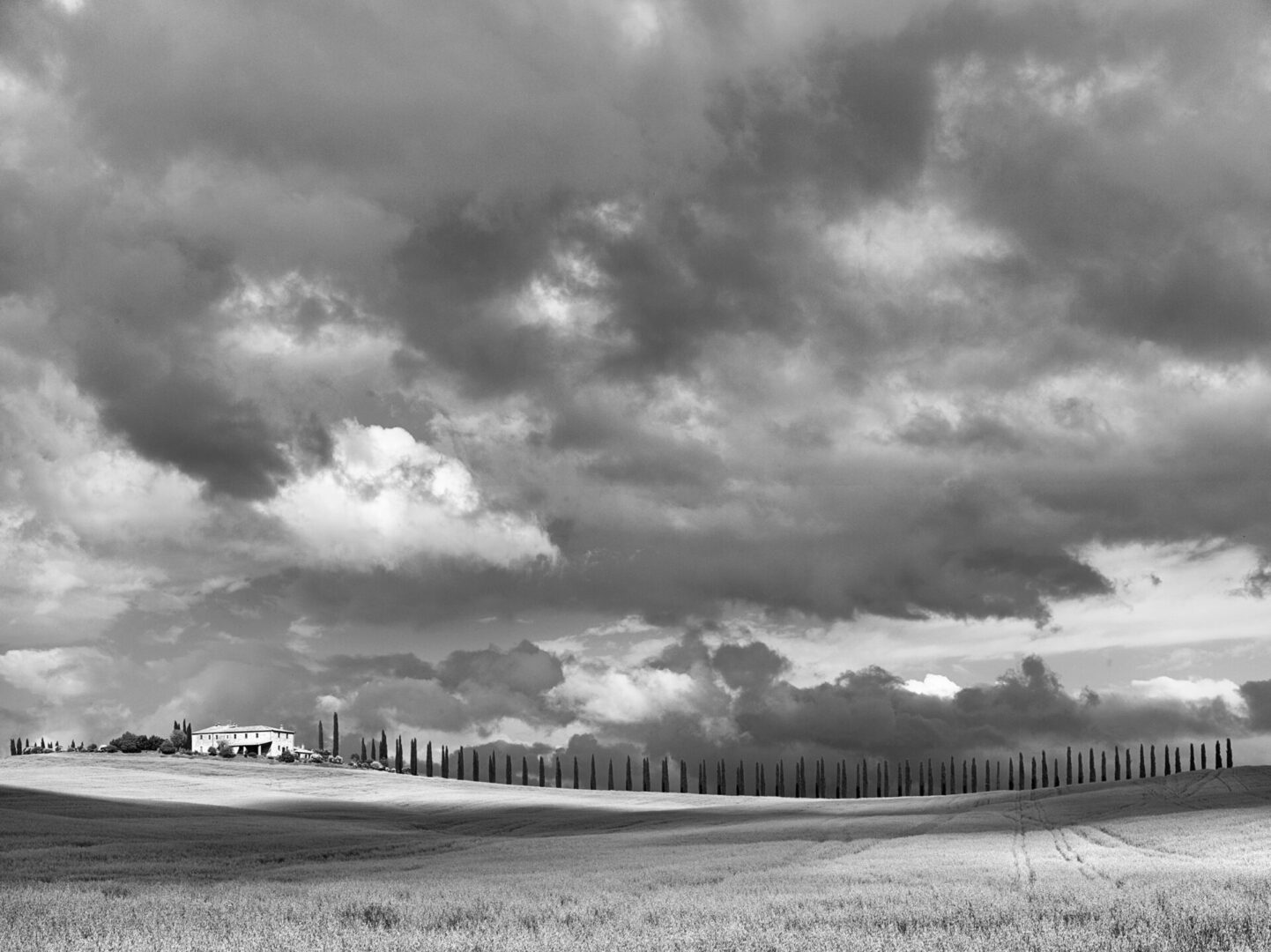 Clouds over Val d'Orcia, image by Edward Riddell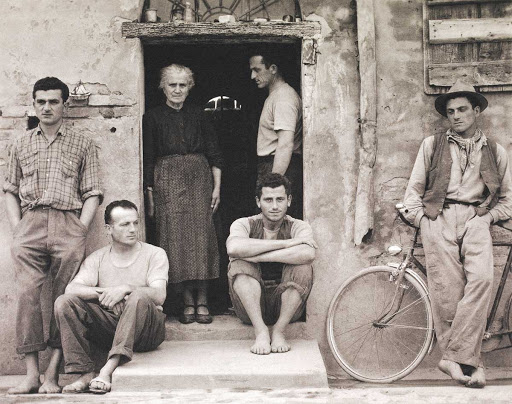 The Family, image by Paul Strand
Villa Palazzetta, image by Edward Riddell
One of your latest projects is all about Tuscany and its people, what is it about Tuscan people that intrigues you and why did you choose to photograph them?
Throughout my photography career I had always taken photos of wild places, with no people, just complete wilderness: mountains, oceans… very pristine landscapes. I decided to start a photography project about Italy and found Val d'Orcia, and although it was not pristine in that it had towns and buildings, it was still quite wild. It probably doesn't look a lot different than it did in the Renaissance, and that's what got me hooked. The second element you notice when looking at my work is the presence of clouds. There are very few places in Italy that have the clouds that Val d'Orcia has, because of Monte Amiata.
The same reason the wine is so interesting and good is also the same reason the landscape photography is so good: the light and the clouds.
I had never really done portraits. There's a famous American Photographer, Paul Strand, who made a really great book called Un Paese, in which there is a black and white portrait of a family from a town near Milan called Luzzara. It is one of the most famous pictures in the history of photography and is called The Family. The book is full of portraits of people from Luzzara and of the town, but it's the people who really made the project for him. So I decided to start taking portraits myself, and I always tell people to look directly into the lense as it completely changes the chemistry of the portrait.
Each time I take someone's portrait I tell them I'll give them a print — and they rarely believe me! So when I come back, the following year, I bring a little folio of prints of all the people I photographed. I then go around town and give them to everybody as a gift, and even now, many years later, these people have their portraits hanging up in their restaurant or shop. These people become my family, thanks to this little gesture. I've dedicated an entire wall at Villa Palazzetta to the portraits of every Tuscan person I've taken. They are what cemented our relationship with Montalcino.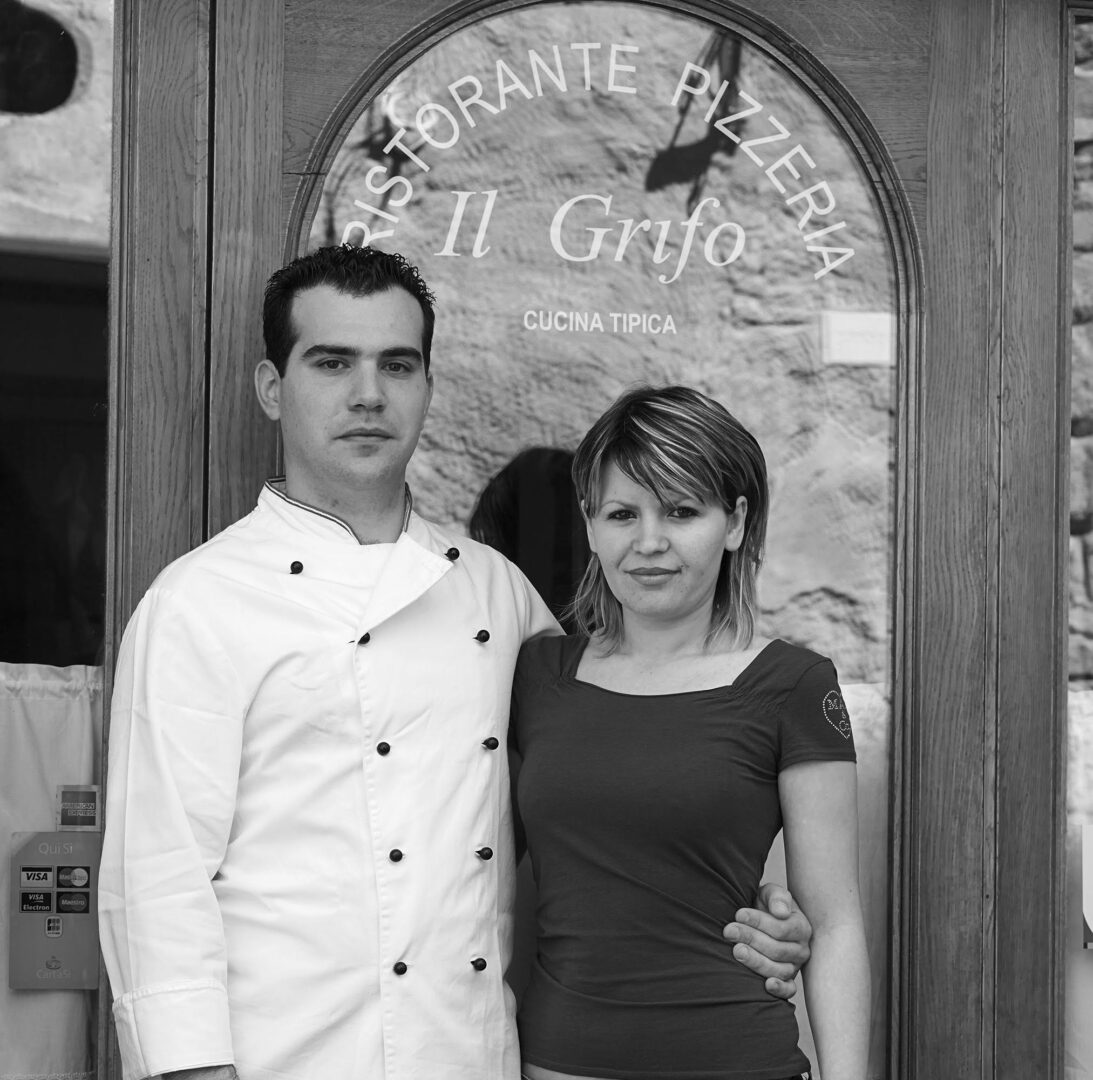 Federico and Mira, image by Edward Riddell
You're capturing a moment in history. Of people who would probably never have had their portrait taken by a photographer…
Exactly. The very first portrait I made was of Federico and Mira from Il Grifo, when they were young and unmarried. The thing about a photograph, more than any other form of art, is that it captures a small moment in time. On one of our trips we made a reservation at Il Grifo and on our table was an envelope, inside it an invitation to their wedding. This all began with us just taking a portrait of them!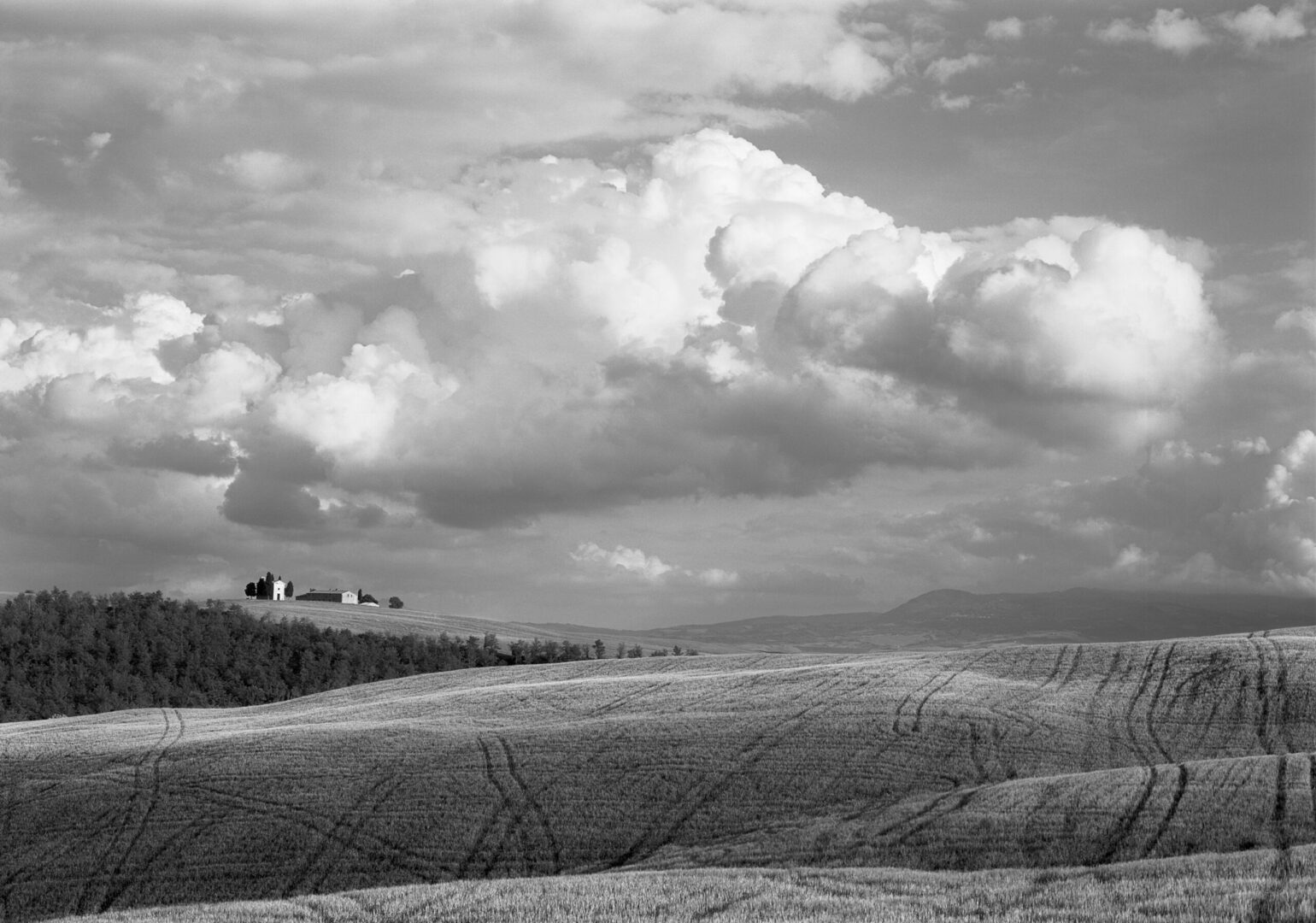 Cappella di Vitaleta, image by Edward Riddell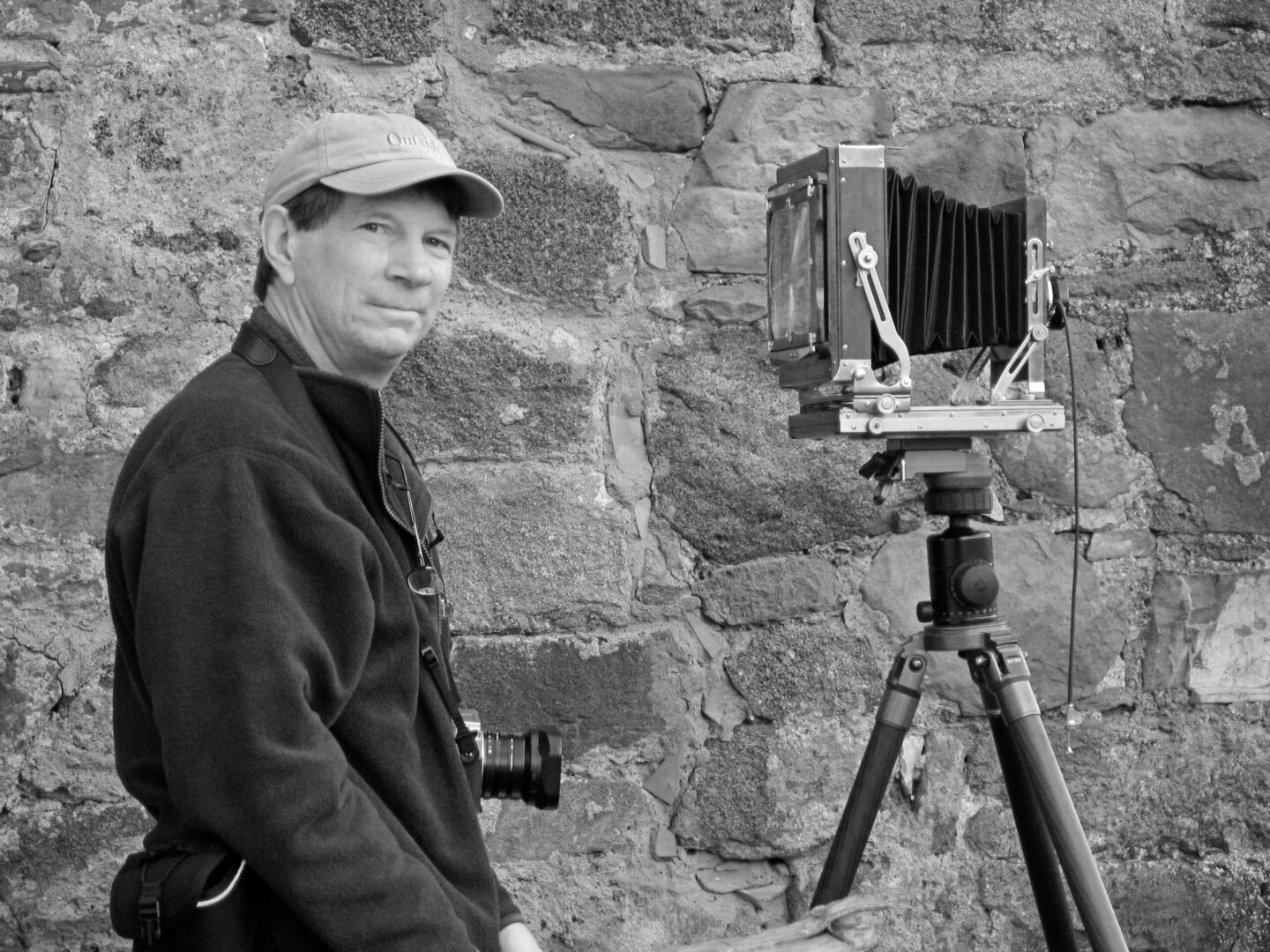 Ed behind the scenes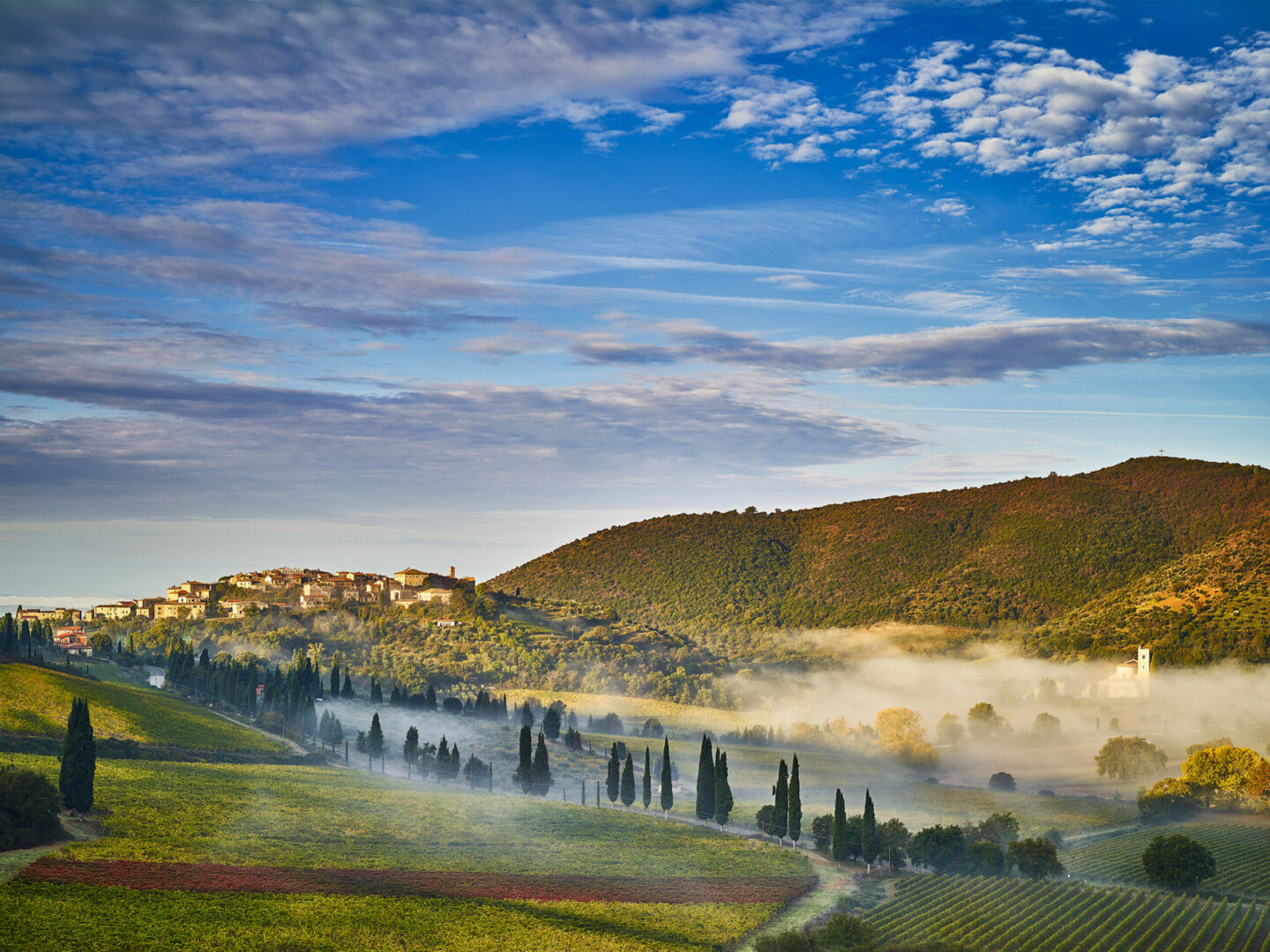 Castelnuovo dell'Abate, image by Edward Riddell
What's your favorite photograph that you've taken in Tuscany?
Back then I was making these pictures with film, before digital was high enough quality. A 5 by 7 view camera, the same camera that Paul Strand had used in the 1950's. The process of bringing and shooting film was tough, because it was getting x-rayed in the airport. I shot a picture of Cappella di Vitaleta, and the wheat was two feet high, it was in June or late May and with these beautiful cumulus clouds that were coming off of Monte Amiata, the patterns of the wheat fields and this little white chapel on the hill and then the clouds. That was the first important picture I took and is still one of my favorites.
Then I have a colour shot of a spot I've been to maybe 100 times. It's on the road from Castelnuovo dell'Abate to Mastrojanni and Podere Le Ripi, where at one point the road levels off and you can park your car just off the road. You walk down the road to the left and there is an incredible view that I don't think anybody ever sees of Sant'Antimo. That time, in 2013, it was a very foggy morning, you couldn't see anything. Half an hour later the fog started to clear and the sun hit Sant'Antimo and Castelnuovo dell'Abate. It was in the fall, so the vineyards were yellow with one patch of Cabernet which was red, and again, all the clouds.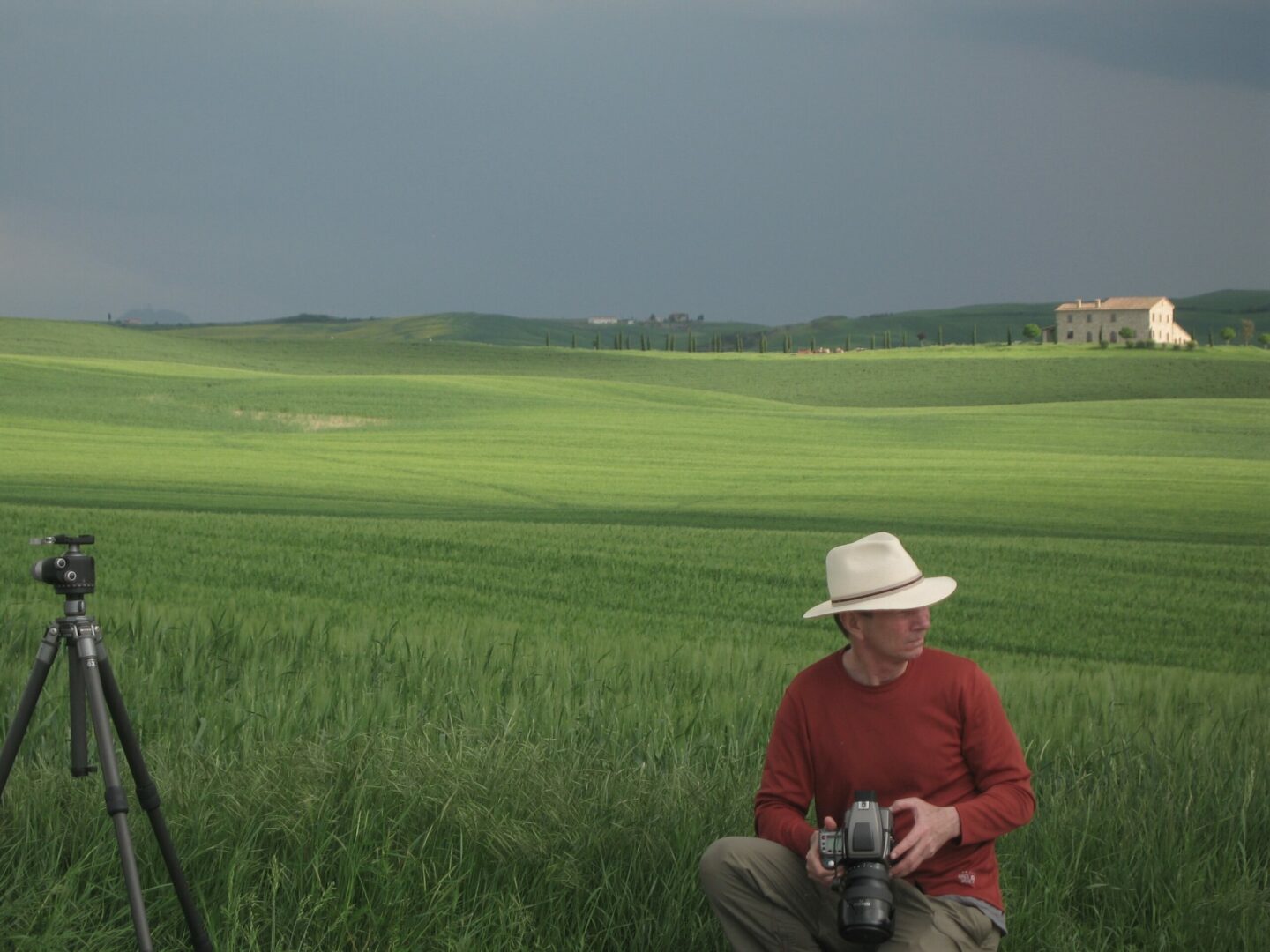 Ed in Val d'Orcia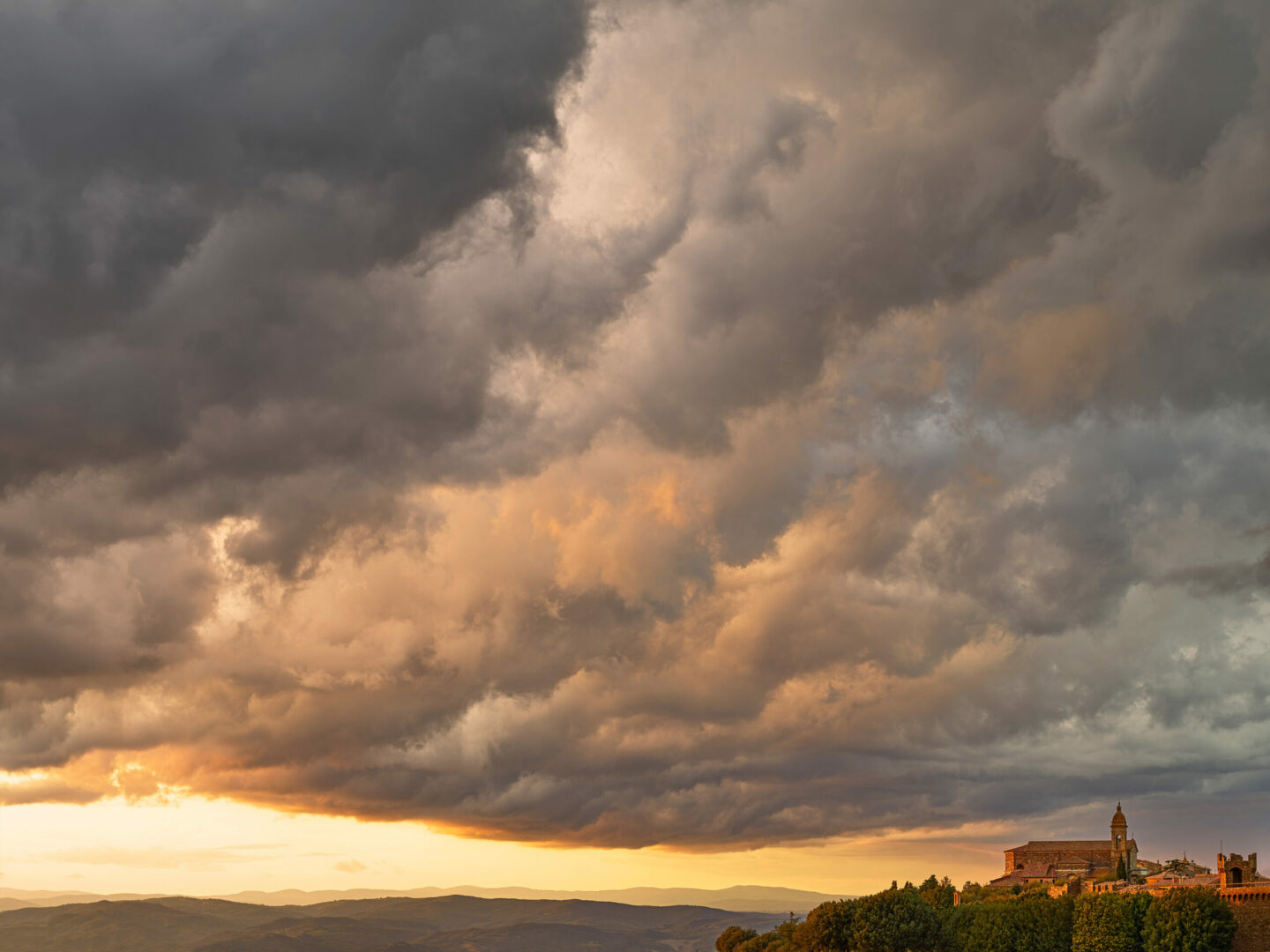 Clouds over Montalcino, image by Edward Riddell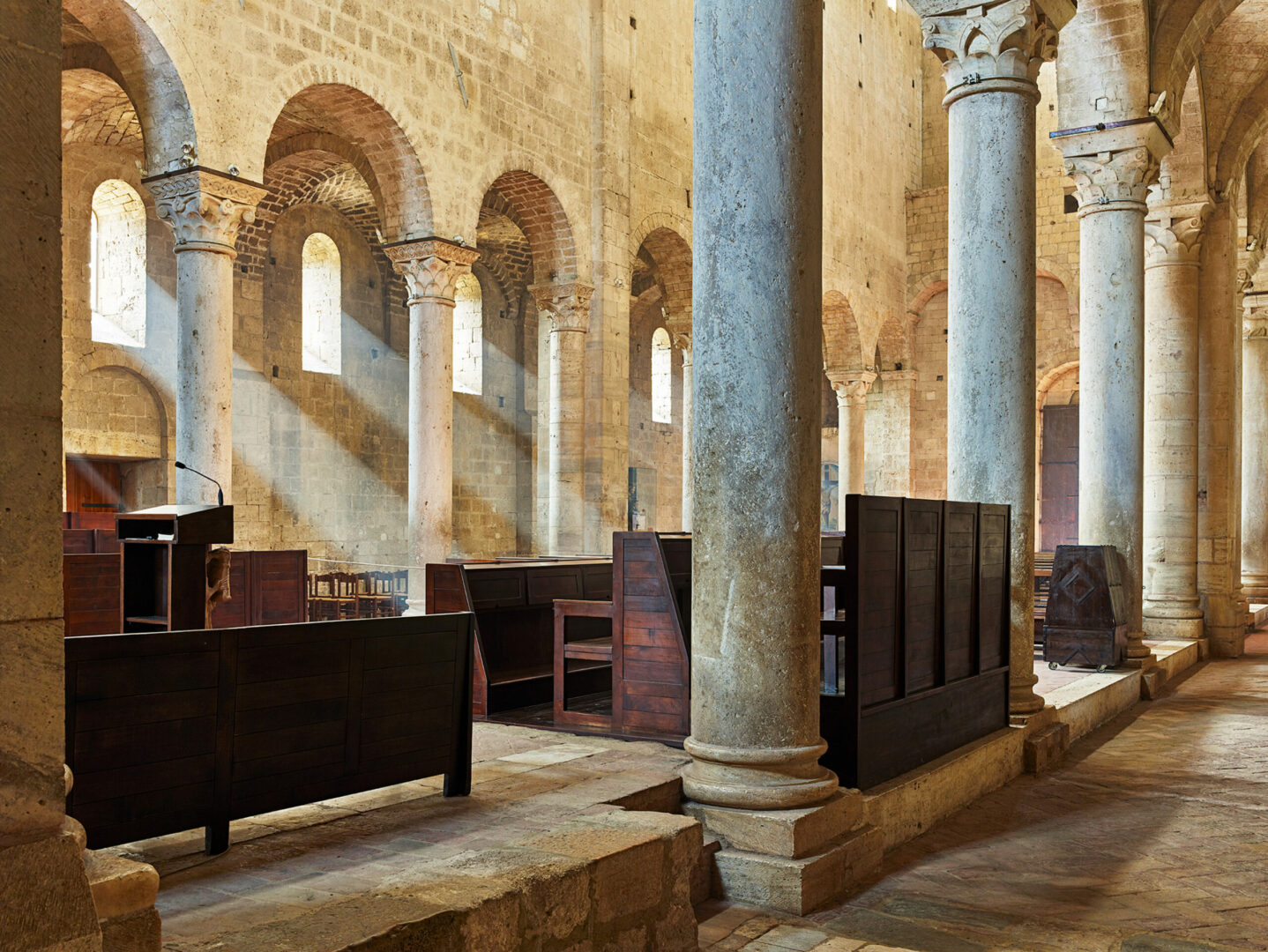 Sant'Antimo, image by Edward Riddell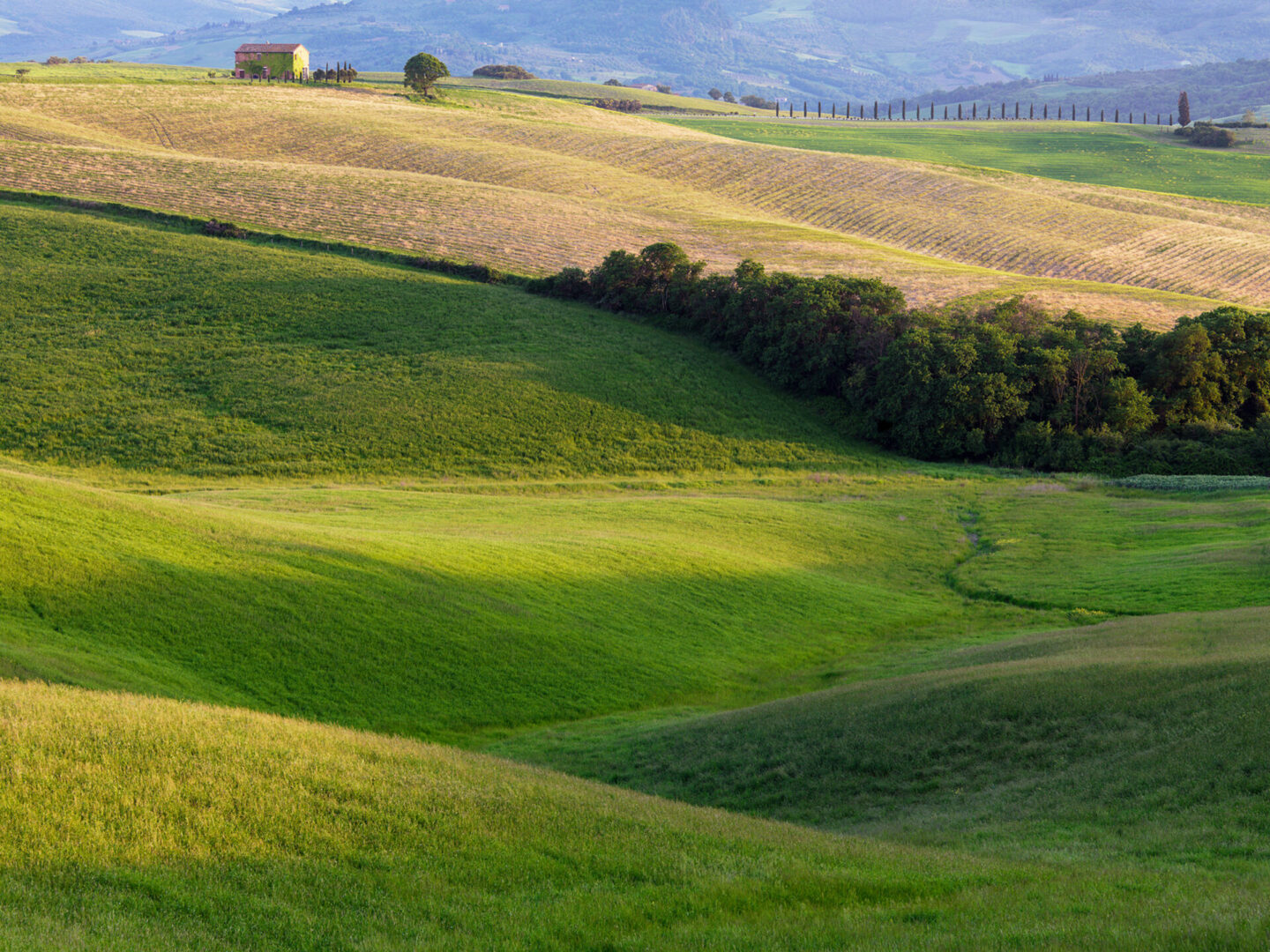 Val d'Orcia's rolling hills, image by Edward Riddell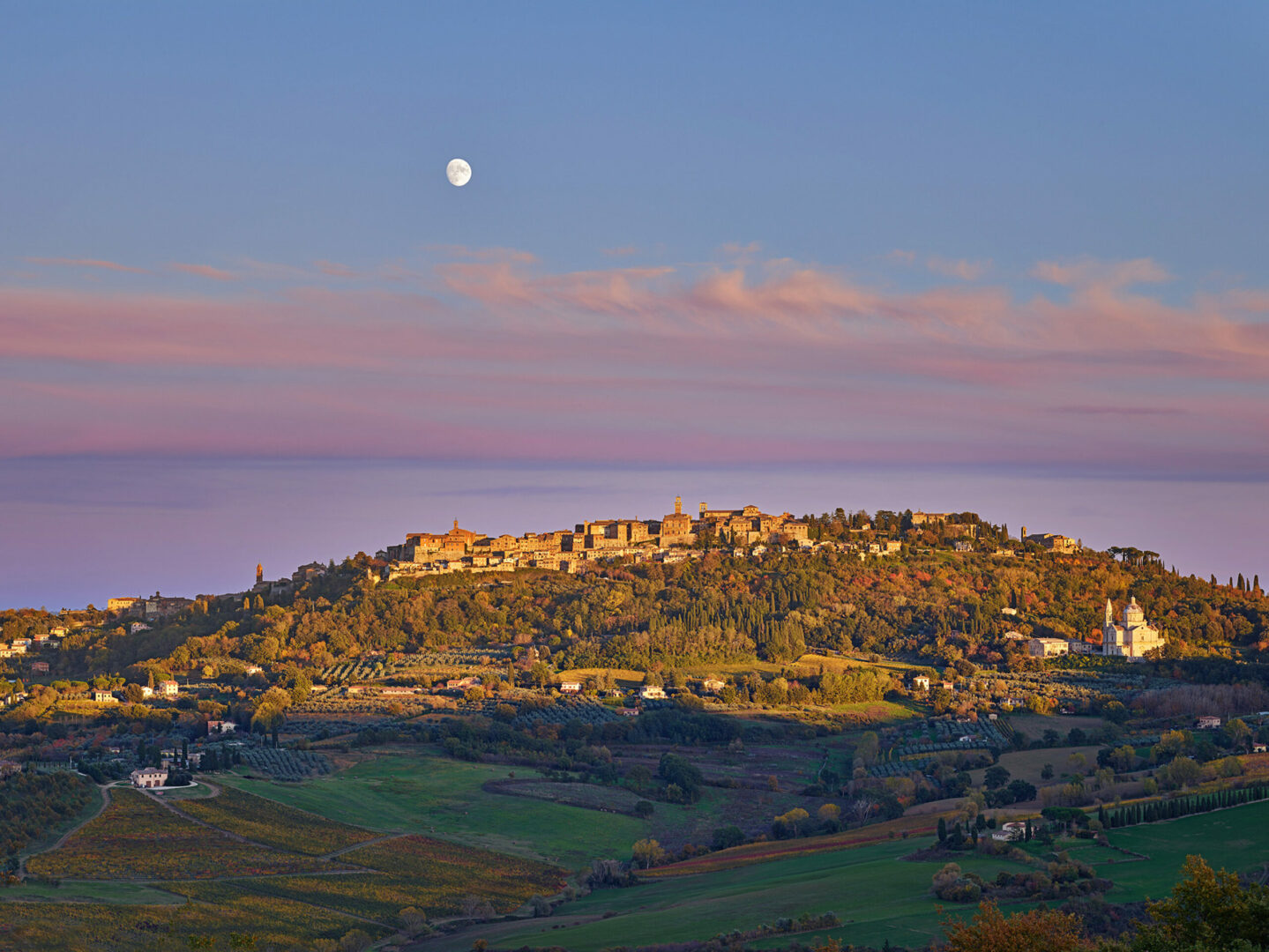 Montepulciano, image by Edward Riddell
You say you're always fascinated by the concept of beauty, which aspect of Tuscany's beauty attracted you the most?
Let me tell you about what I think about when I take a photograph, because this is really important. I've been making photographs since I was 14 years old, so for the last 55 years, although it has only been for the last 10 to 15 years that I've adopted this concept of thinking about a photograph. A concept simple to say but hard to do: don't photograph what you see, photograph how what you see makes you feel.
This is why clouds help. When I see a landscape and the light is powerful, the clouds are blooming and everything is perfect I get goosebumps. The idea is to somehow capture the feeling of drama and power in the scene within the photograph, so that when you look at the picture you can feel a little of what I felt as I stood there and saw the actual thing happen.
That's the process I do with every photo I take, I think to myself what made me stop and want to take a picture in that spot. Whether it was the colour, the light, the clouds, the shape of the landscape I try to make a picture that amplifies what I saw.
So now go back and ask me the question again…
What aspect of Tuscany's beauty attracted you the most?
Val d'Orcia is pretty unique and for several reasons, I don't think there is any place in Tuscany that has the light that Val d'Orcia has. Morning, evening, midday, the light is absolutely exquisite. And add to that the forms and shapes of the landscape, especially when you're driving on the road between San Quirico and Pienza, and you're looking out at both sides. Another incredible road is the one that takes you from San Giovanni d'Asso up to Montisi which runs all along the ridge.
It's the light and the shapes and forms, and the fact that when you're in Val d'Orcia, if you stand in the right spot, you can really go back in time. It's been so beautifully protected, it was really hard for us to get all the permits to do the improvements on our villa and it seemed like – at the time – that it was just crazy hard, but it's really protected as a landscape. That's the other thing that makes it really special.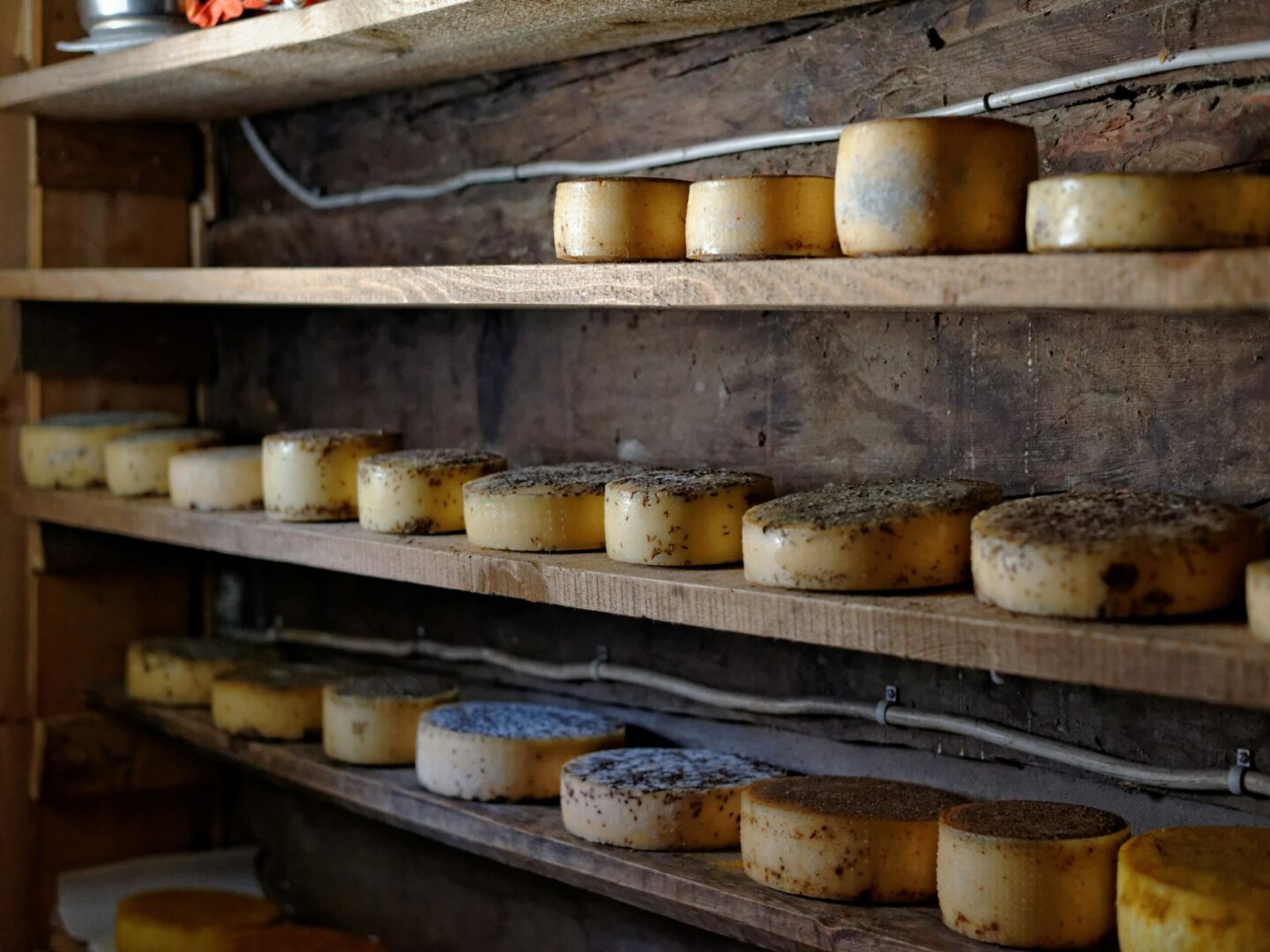 Pecorino di Pienza
Your favorite food or product from the area?
Oh that's an easy one, it would be mozzarella di Bufala, we don't get that in the US and even in Montalcino you can't get a good product like that in the Coop, so there is a company in Maremma that delivers mozzarella to us every two days and when we're at the villa. I would put as a close second aged Pecorino di Pienza. There is a particular family that makes cheese near Pienza who's called Cugusi, and they call it a Grand Cru or something like that, which is so… oh my god… a two year aged Pecorino and that's how I finish my carbonara, with that cheese.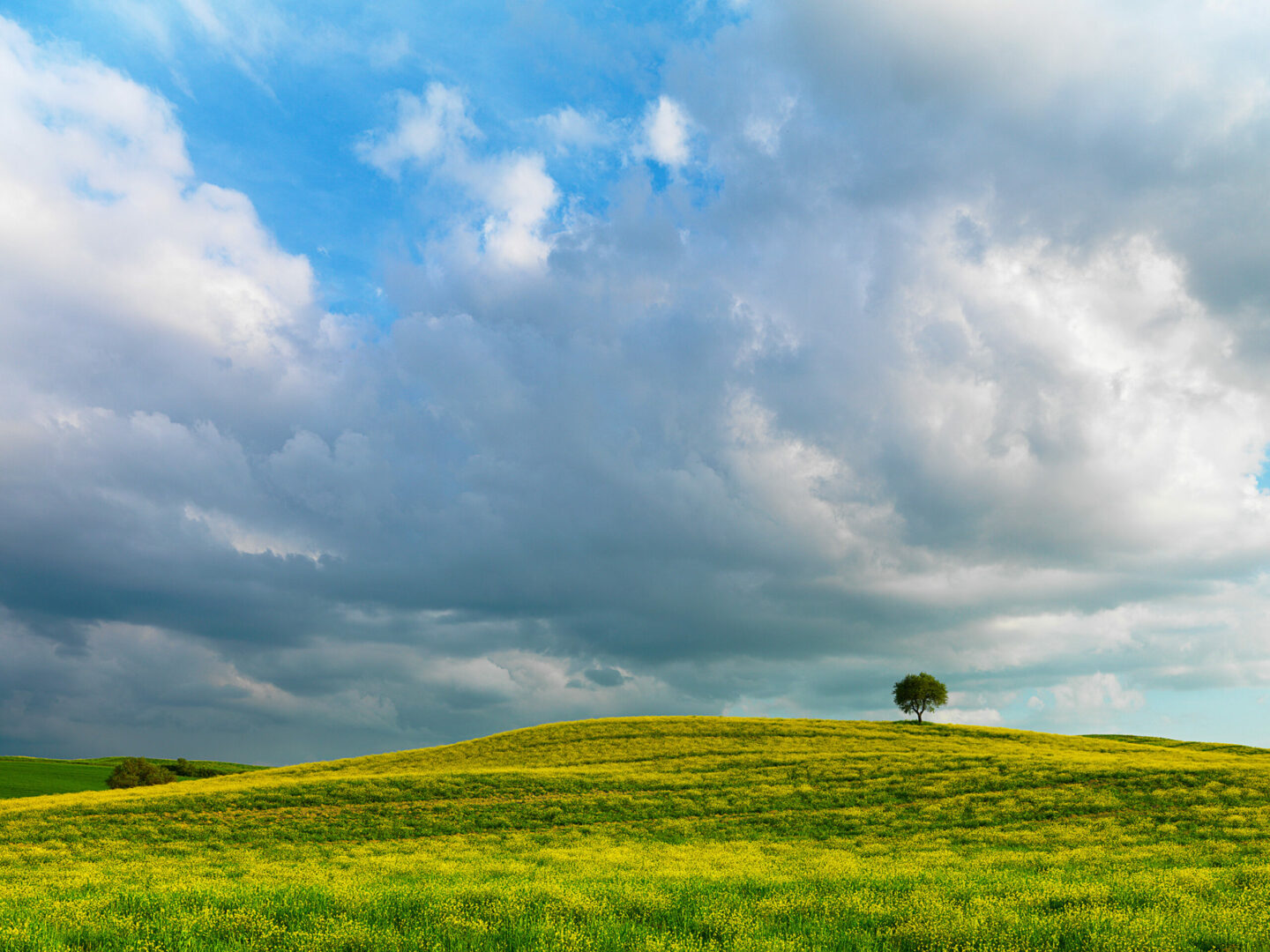 A lone tree, image by Edward Riddell
And what about your favorite season in Val d'Orcia?
Oh that's tough… I would really have to say two: Fall for sure, just because of the colour change. I think this year had the best colors we've ever seen, in the vineyards and trees, but also Spring, when it's that bright bright green, so those two seasons: May and October.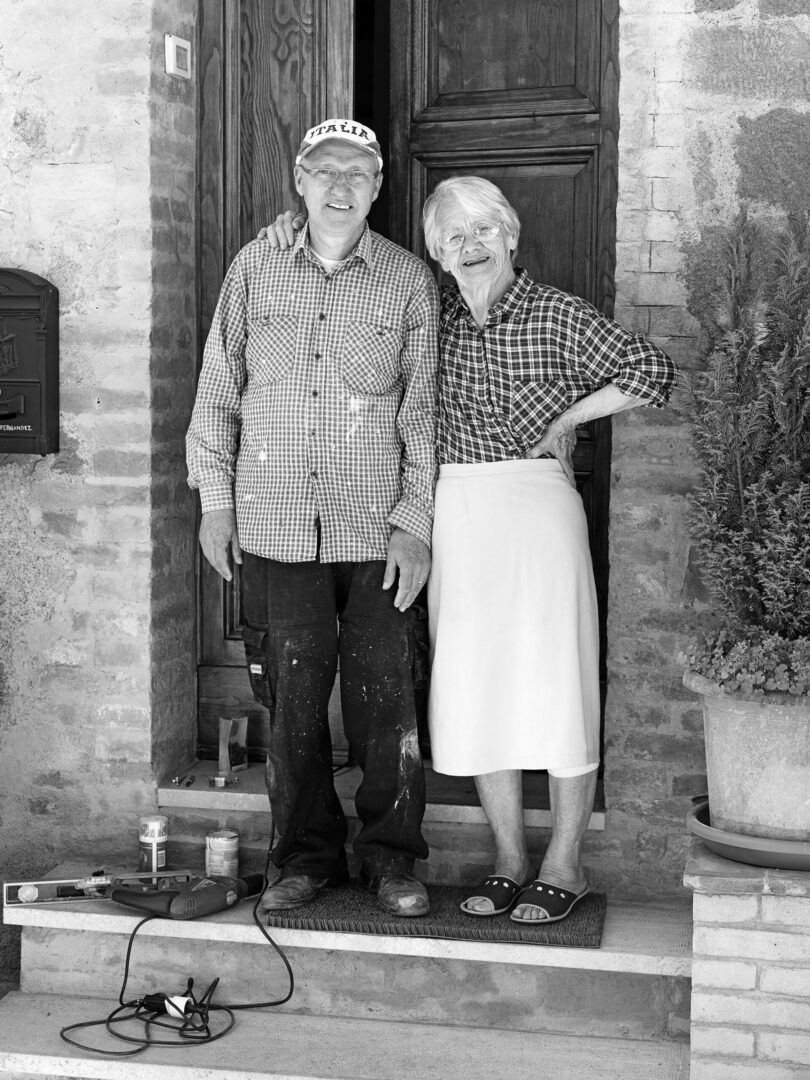 Image by Edward Riddell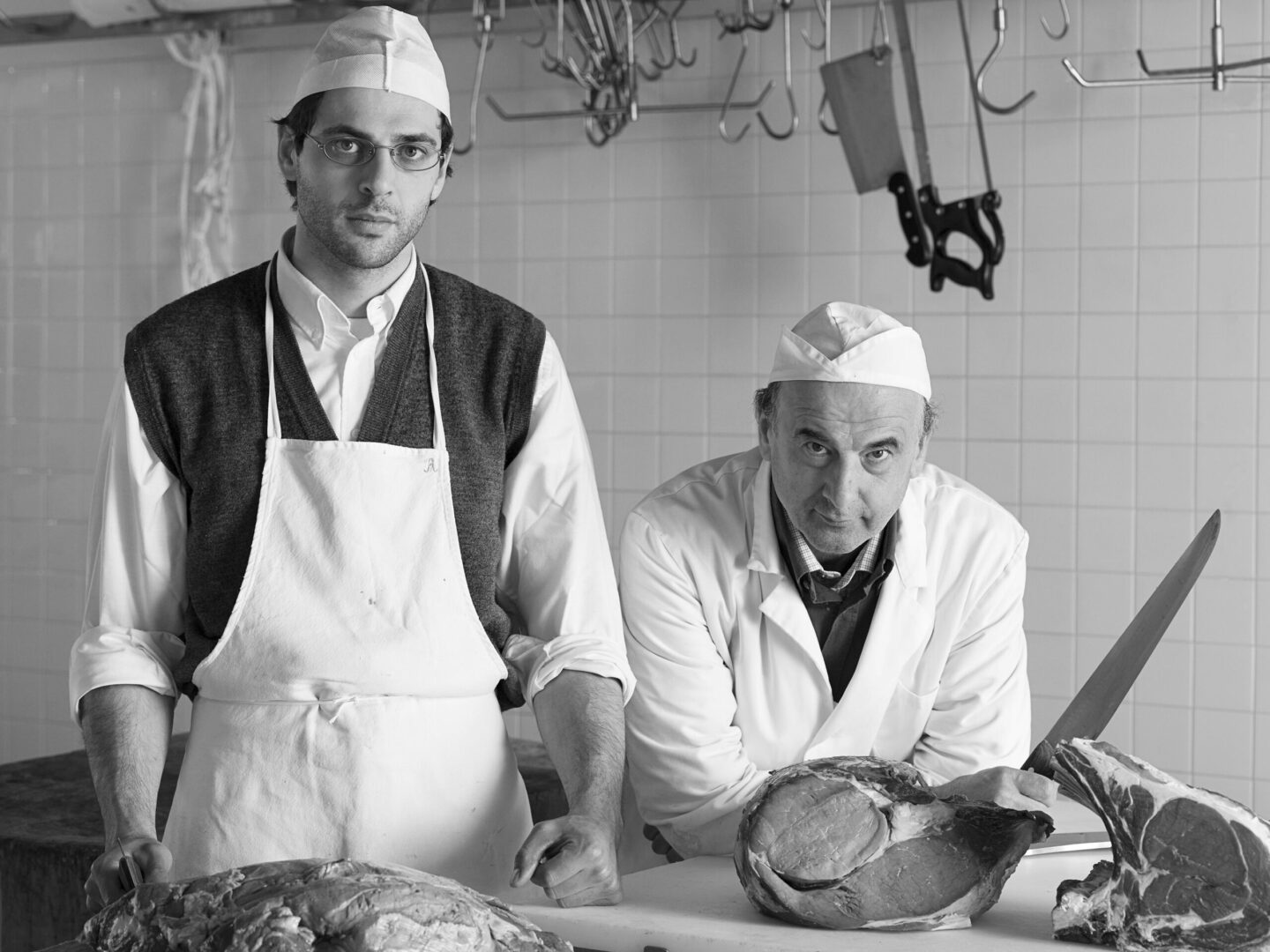 Image by Edward Riddell
What do you miss the most when you're away from Tuscany?
We actually might have more friends in Montalcino now than we have in the US, we have so many wonderful friends and everytime we like to invite a lot of people over for dinner.
My one worry is that the fame will ultimately ruin Montalcino. And I know – because everybody I talk to says that the area needs more tourism – but I don't think so.
So here is my suggestion for a sustainable tourism future: you should be encouraging longer stays. It's one thing when people come for a day or two, that creates a lot of turnover, a lot of traffic, a lot of business whereas when people stay for a week it's a totally different experience.
We make them stay for a week at our villa, and a lot of people don't want to stay that long – but we say a week or nothing – and they inevitably are so glad at the end of it, they always write it in our guest book. Their feeling for the place in the last few days that they're there is totally different than their feeling for the place the first few days. The first few days you're in this mode of "you have to see everything" and then the last few days you slow down and you start to absorb the parts of the place that you really love.